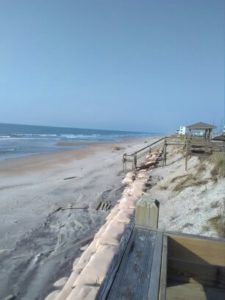 Nope, leaping 15 feet from what is left of the crossover is out of the question–sliding down the sand works ok, but getting back up is hell. Sneaking under the keep out sign works okay too. Anything for some cool looking driftwood and I gotta  have my toes in the sand.
I will say that hurricanes are part of living at the beach. Sand in your bed is part of it. Sharks, stingrays, humidity, thunderstorms and so much more that isn't sweet and nice, are part of what the ocean life has to offer. Love it or leave it cause you ain't gonna change it.
QUOTE: " If a hurricane doesn't leave you dead it will make you strong, don't try to explain it, just nod your head, breathe in, breathe out, move on." Jimmy Buffett
WRITER'S TIP: God bless those of you who suffered damage.