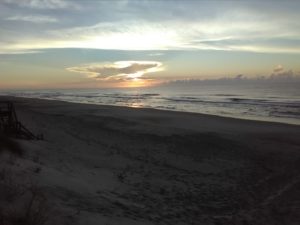 Oh what a beautiful morning. But then every day at Topsail is beautiful. Was talking the other day with someone (a stranger) about how blessed we are to get to look at the ocean whenever we want–contemplate its vastness–and what lies beneath, and why. What a great conversation we had. I appreciate those little surprise gems.   Like my father used to say "wonder what the rich people are doing today." It surely does not take money to appreciate beauty. And it doesn't take dough to make you appreciate yourself and how blessed you are to be able to behold beautiful things.
This new book SHARK'S BREATH, has a little in there about self appreciation–about beauty. Of course, it might be a little twisted, but nonetheless, everybody wants to feel important, appreciated, attractive in some way.  In SHARK'S BREATH, a few beautiful people have been added to the mix, but we all know you can't tell a book by its cover. What's that Forest Gump used to say–"pretty is as pretty does."
Steadily moving forward with this 5th book in the Topsail Island series.
QUOTE: "Beauty of expression is so akin to the voice of the sea." George Matthew Adams
WRITING TIP: Open yourself up, let your imagination go free. You can always delete.