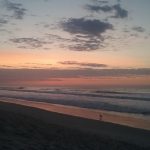 Welcome to the blog.
Hi, my name is Carol Ann Ross, and I am an author.
I live on beautiful Topsail Island on the North Carolina Coast. Life is good when you get to do what you love, and I love writing about the people who surround me and this island where I spend most of my time.
Through my writing, you will have the opportunity to explore some of the magic of this amazing place--and it is amazing. As a child it was my "never, never land"--as an adult it still is.
Here on the blog, you will find a variety of topics from beach posts, to writing tips and everything in between.  I invite you to follow along on this fascinating journey of a self-published author
Who likes short shorts? We like short shorts….words to a song popular in the 1960s. And this is a photo of my father, my sister and myself in 1967. It was a different world then, we saw nothing wrong with wearing short shorts-and that was way before Daisy Dukes came into fashion. People thought differently then, I think. Anyway, we were safe on Topsail Island even though miles and miles away the Vietnam War was waging, cities were being burned, women were burning their bras, MLK had been shot, Bobby Kennedy had been too. My new series, The Blue House…
Read More