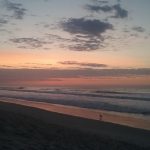 Welcome to the blog.
Hi, my name is Carol Ann Ross, and I am an author.
I live on beautiful Topsail Island on the North Carolina Coast. Life is good when you get to do what you love, and I love writing about the people who surround me and this island where I spend most of my time.
Through my writing, you will have the opportunity to explore some of the magic of this amazing place--and it is amazing. As a child it was my "never, never land"--as an adult it still is.
Here on the blog, you will find a variety of topics from beach posts, to writing tips and everything in between.  I invite you to follow along on this fascinating journey of a self-published author
Another bit of history about Topsail Island. Many I know are all ready aware that the military installed the pontoon bridge in 1940. But did you know that the status of one's tail pipe was contingent on the tide? When crossing the bridge extremely high or low tide could cause one's rear end to slam against the pavement. No wonder the islanders were happy to see the new swing bridge installed in 1956.
Read More