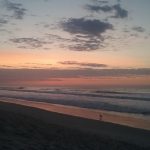 Welcome to the blog.
Hi, my name is Carol Ann Ross, and I am an author.
I live on beautiful Topsail Island on the North Carolina Coast. Life is good when you get to do what you love, and I love writing about the people who surround me and this island where I spend most of my time.
Through my writing, you will have the opportunity to explore some of the magic of this amazing place--and it is amazing. As a child it was my "never, never land"--as an adult it still is.
Here on the blog, you will find a variety of topics from beach posts, to writing tips and everything in between.  I invite you to follow along on this fascinating journey of a self-published author
As a child I carried around a little Brownie camera and took pictures of various things. The above picture is of Barnacle Bill's after Hurricane Donna. The bottom picture is a picture of the flooding caused by Donna. The date at the top of the pictures is the date they were printed. Often I kept one roll of film in my camera for months.
Read More