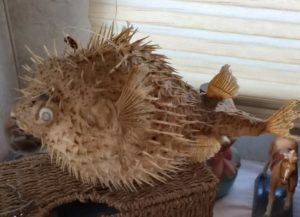 BLOWFISH! It is off to the editor and hopefully will be available in a couple of weeks. We are working on the cover and I'll post that asap–things are going along swimmingly. BLOWFISH is the third novel in the BLUE HOUSE SERIES and to tell the truth, it is probably my favorite book. (Hairawn Muhly is tied for that position) I did a lot of research and spoke to so many Vietnam vets and old fogies from the 1960s. God bless them all! Here is a little excerpt from my new book:
To you a bath is water hot
Enough to make it steam
To us it's nothing more than
A leech infested stream.
You have no doubt, been scared enough
To think the end is near
But I bet you've never had to live
A whole year in total fear.
You've got it pretty easy
Compared to us across the sea
But all any soldier asks of you
Is to please remember me.
From "Just Thinking," a poem by Carl Andersen, a former US servicemember, used with permission from his estate.