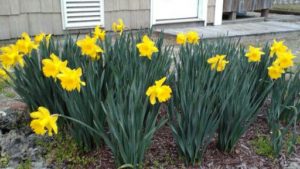 Every year around this time I pay homage to the daffodil, my favorite flower. So once again, here is a pic of 'a host of golden daffodils.' These jocund flora offer such promise and hope as they burst forth from still cold ground-(the reason I love them). There is always hope even in the darkest hour.
Trying to get through the dreary winter, the daffodil reminds us that spring is coming. And for me, that other wonderful things are just around the corner too-new friends, old friends, things we have no idea will come.
Wordsworth said it best:
For oft, when on my couch I lie
In vacant or in pensive mood,
They flash upon that inward eye
Which is the bliss of solitude;
And then my heart with pleasure fills,
And dances with the daffodils.
To the people I love and to those whose lives have been difficult this winter, I wish you the joy and promise of the daffodil.