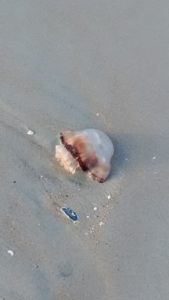 One can't deny the subtle soft beauty of the sea and sky in the early morning haze,  but the blubbery cnidarians
dotting the shoreline brings a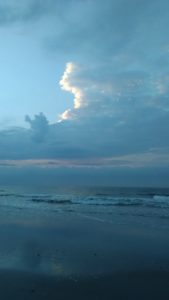 sense of "yuck" as I make my daily trek. I know, I know–they are God's creatures too, but then so are slugs; however slugs don't sting. Our little cannon ball or cabbage head jelly is probably one of the least most likely to sting you but if they do it can cause some real damage. Alas! There is beauty in everything and as I peer closer to the critter I notice the fine lacy structure, the "trim" – beige and brown and realize that this globulous mass, does indeed have a beauty of its own.  There is art in beauty, regardless of its structure. And maybe enough to rival the beauty of the sun bursting through the clouds——-naw.
QUOTE: "Were I called on to define, very briefly, the term Art, I should call it 'the reproduction of what the Senses perceive in Nature through the veil of the soul.' The mere imitation, however accurate, of what is in Nature, entitles no man to the sacred name of 'Artist.'"  Edgar Allan Poe
WRITING TIP: I will be teaching a creative writing class beginning June 3 (if enough enroll) check it out if you are interested. I know it's summer but it can still be fun.