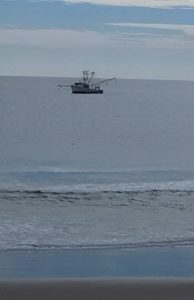 I never get tired of seeing this. There's nothing better than shrimp right off the boat. And now a recipe for  Shrimp Creole.
sauté onion, garlic and celery in a saucepan for a few minutes until tender, add chopped bell pepper (just a little). add diced tomatoes and one small can of tomato sauce, heat and stir for awhile, then add shrimp and continue to cook for about 5 minutes. Serve over your favorite rice.
Okay, so I don't give amounts, but then I usually play that by ear. Besides amounts depend upon how much you want. Whatever the amount, it is yummy.
February 10, The Mermaid's Book Corner, located at the Mermaids Purse in Surf City is having a meet the author luncheon – shrimp creole will be on the menu along with turkey chowder. Looks like we have around 7 authors. More to come on this after Christmas.
QUOTE: "I never talk about books in progress. I could decide to change it to a series of seafood recipes, after all." Guy Gavriel Kay
Writer's Tip: Well, I do talk about books in progress, but Mr. Kay has a great idea. As a writer, you can always change your mind.