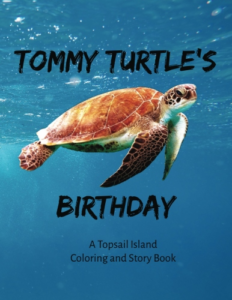 Here's the new book! Oh yes, it's a book for the kiddies.
Tommy Turtle comes to Topsail and has been doing so for many years. Hopefully this little endeavor will inform young readers and at the same time allow them to entertain themselves by coloring the pictures within. Ages 2 to 10 might enjoy this little story.
Don't worry grown up folks. SHARK'S BREATH  is still a work in progress and will be out in the spring. If you remember me mentioning a book called SAVING THE WORLD, this book is also in progress, but will probably not be out for another year.
quote: "Dear Ocean, thank you for making us feel tiny, humble, inspired and salty-all at the same time" –  Apefit
Writing tip: please sign up for my Creative Writing class this coming Feb. 4 at Cape Fear Community College on Hwy210. They are signing up now. I promise it will be fun and…you might even learn something.