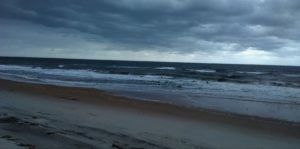 Just one of those days perfect for watching your favorite movie, reading your favorite book, or writing about nefarious characters. Today reminded me of the second book in the mystery series, BRIDGE TENDER. It was in this book that I introduced Estelle. If you've read any of my mysteries you'll be familiar with her. She's a real piece of work. Since I'm working on SHARK'S  BREATH (fifth in the series) I like to go back and tweak my memory–I found this little excerpt and wanted to share it with my readers. It's from Hank–remember good old Hank. Now, I think he wasn't such a bad guy compared to Estelle. And I can relate to him here–what home means.
EXCERPT: "walking out to the pier, he studied the thick marsh grasses growing between his house and Pamlico Sound. They stretched maybe a hundred yards before him. The area was reminiscent of Topsail but it was different. There were fewer homes along the waterfront, fewer piers fingered out into the briny expanse. Still, it reminded him of his home. But then, any place along the southern Intracoastal Waterway had that feel of life beginning and dying. It was there, in the marsh and the tides, the smell of what wasn't any longer, of what was and what was going to be.
All along the coast there was that. So being there among the reeds and grasses, close to the water, felt like home, but it wasn't."
QUOTE: "We are tied to the ocean. And when we go back to the sea, whether it is to sail or to watch, we are going back from whence we came." John Kennedy
WRITING TIP: Don't be afraid to sound stupid or silly, mundane or maudlin. When you read your work back to yourself, it may be perfect.