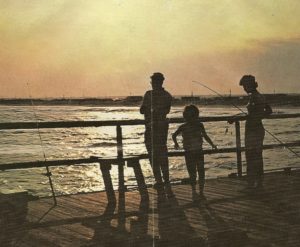 I'm pretty sure this photo is from the 1960s–not sure which fishing pier though. Of course, back then I think it was $3 to fish all day long on the piers and one didn't need a fishing license to surf fish, but the times they are a changing–have changed and will continue to do so.
Change is good? Not so sure about that. One thing for sure, change means different and unless you want to continually live in the past you better get used to it. Choose your time, your music, your literature genre, and friends to accommodate your state of mind.
All this, the above, about change–is brought on by that damn cement snake we have stretching across the ICW. The one I see every day and every day I become a little more used to it–thinking of how I need to let go of our little swing bridge–let go of the past and accept, for better or worse, what will most certainly be part of our future.  And as I ready myself to let go, I hold on to the prize–the time that was golden and true (at least for me). I guess that is why I write books–to hold on to what I love, who I love and a time that I love.
QUOTE: "All the art of living lies in a fine mingling of letting go and holding on." Havelock Ellis
WRITING TIP: without being maudlin, be.