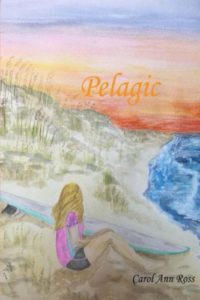 Here it is-the new book. This is a true romance novel. True, not in the sense that it really happened, but true as in only romance. My other books have a little romance in them, but the trilogy is historical fiction/romance. And the murder books –well, the romance in them is…very little. PELAGIC is a love story-all about all that mushy stuff we women like so well.
PELAGIC will be available on Amazon in about three days. I'm hoping to have it in the local stores by the end of the month or the first of March.
The cover is a watercolor, beautifully done by a local artist-Leslie Campbell. Isn't she great?
I truly hope my readers like this book. please let me know, I love feedback.