Books – The days of Hairawn Muhly – Topsail Island Historical Saga 1
The Days of Hairwan Muhly
Topsail Island Trilogy – Book 1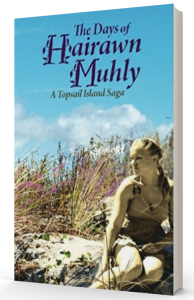 The Days of Hairawn Muhly is the first book in the Topsail Island Trilogy. Beginning in the mid 1930s, this story tells the reader what life was like on this yet unnamed sandbar and how the next twenty years shaped it and the surrounding area.
History of Topsail is woven into this three generation saga of life and lifestyle in the early days before development changed Topsail forever.
Looking for a physical copy of the book? Order here
This book is not available as a digital download at this time.